Working With Black Chalk Paint
Commission pieces are a huge part of this business which is why I love doing what I do, one of the best feelings is to give a lovely old fashioned piece of furniture a new lease of life, especially when the client falls in love with it all over again.  So when I was asked to give a make-over to a Younger Toledo Dresser I was more than happy especially as I was recommended by another very satisfied customer (word of mouth is the best form of advertising).  My new client was having an extension built which would be her new kitchen and she had had this piece of furniture for 45 years, it was still functioning perfectly well but she wanted it bringing up to date with her new modern look kitchen.  We discussed her requirements and she decided on black but she was adamant that it should be matt black with no shine.
I ordered my black paint online Vintro Victorian Black(who knew there were so many different shades of black) and started work on the bottom half of the dresser.  I'm not going to lie 2 days in I wish I hadn't started it, working with black is so hard.  The paint was extremely thick so I had to water it down after that it went on fine and I did my usual 2 coats then started to look for bits that needed sanding down to give a smooth finish which is when my problems started.  Whenever I went near it with the fine sand paper it turned grey which was not the look I was going for.  So I thought it will be fine once the wax has gone on, I opted for a Ronseal Interior diamond hard liquid wax as I didn't want a sheen on it but the liquid wax is a white thick milk consistency so it gathered in the corners and dried white no matter how many times I tried to wipe the excess off.  In the end I had a eureka moment and mixed the liquid wax in with the black paint and this seemed to help, its not perfect but we got the desired effect.
This method wouldn't be suitable for high usage surfaces so I am still not sure how one would go about solving this problem…..Answers on a postcard if you have come across a solution I am always will to try new methods.
Anyway my client loved it when she saw it and I am now working on the top of the dresser, its far easier once you know all the pitfalls which is just as well as I think she wants her dining table doing the same way (the top will be sanded back). I may have to wax the table legs as they will get knocked about and need some protection.
Below is a similar dresser bottom as it was.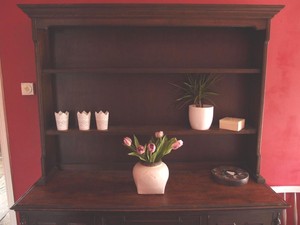 And below is how it looked when Vintage Cat had worked her magic 🙂